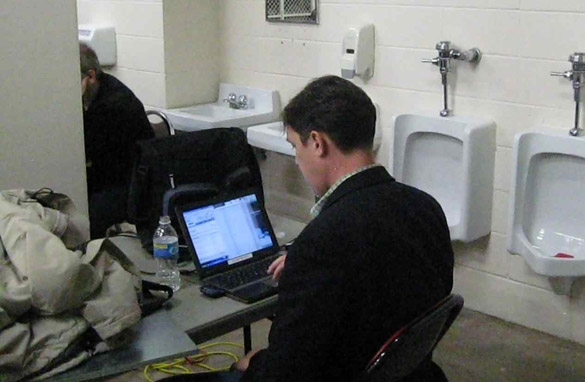 CJR:
In a
dispatch
to the
WSJ
's Washington Wire blog, Calmes reported from the workspace set aside for reporters during Clinton's "Texas-sized townhall" yesterday evening: the men's room of Austin's Berger Activity Center. The five-hour-long water-closeting was the result of an apparent error (the room had been described to her as a "locker-room space," an "abjectly apologetic" Clinton press aide, Jamie Smith, told reporters), and the press "were mostly amused" by the scene..... At one point during Water(Closet)gate,
Time
's Karen Tumulty
reported
, "a gentleman just wandered in, expecting to use the facilities, and looked very startled to see three dozen reporters typing away on their laptops.


This, lest we forget, is the organization of the "tested, experienced, ready to go on day one" candidate.