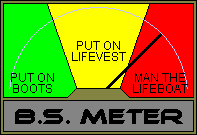 CNN.COM, from the hearings on the Big Bail-Out:
Paulson said he had put forward a brief three-page proposal on
Saturday without any details about oversight of the bailout program
because he felt it was proper to work with Congress on those details.
"I want it, we all want it," he said about oversight.
BULLSHIT.
The proposed plan states very clearly:
Sec. 8. Review.
Decisions by the Secretary pursuant to the
authority of this Act are non-reviewable and committed to agency
discretion, and may not be reviewed by any court of law or any
administrative agency.
Don't believe a word this guy says. Get the oversight provisions in writing. Then get rid of this lying, power hungry hack Paulson.